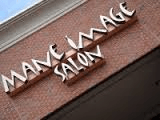 Our salon is not visible due to us being behind Burger King and Windstone Dental, so we want you to be able to find us easily. We are directly under Janes Gym and beside Jason's Deli. If you see this building sign, you have made it. We love people, and want to show you just how talented we are!
Welcome to Mane Image Salon!

We at Mane Image aspire to make other people's day amazing and to bring them happiness. Our hope is to inspire others to do the same.



Each stylist wants each person to walk out feeling and looking beautiful!

Come in and visit us today!
Walk-ins are ALWAYS welcome, and REFERRALS are always appreciated!